Are you a fan of outdoor activities, such as hunting, mountaineering, fishing or camping? If so, you're aware that these are enjoyable activities. However, it would help if you were more than ready for any outcome when exploring outdoors.
Therefore, it would be helpful to have the best survival knife kit at your disposal. A survival knife kit is durable and you can use it in many ways. Now, read on to find the top 5 survival knife kits worth buying.
Best Survival Knife Kits
WildSurvive Pro
Best Overall
Since mother nature comes with its rules, which aren't easy to overcome, any outdoor fanatic needs to recognize the significance of having the ideal survival tools kit, such as WildSurvive Pro. You can't really tell what awaits you in the wilds.
WildSurvive Pro is a popular survival gear designed for outdoor fanatics, hikers and other customers who want a survival knife kit to use in the event of an unforeseen tragedy. Well, this survival knife kit is well packaged in a water-resistant and convenient kit.
You can store this survival gear in the confines of your house or the back of your car. The knife is sharp to cut through branches for lighting a fire that warms you, cooks meals and secures you against wild animals.
What are the Contents Contained in this Survival Knife Kit?
Based on the situations intended to cover, survival tool kits are different from one another. All in all, there're several tools considered to be a must-have for any survival gear and WildSurvive Pro has them all.
Here's is what you'll find in this survival knife kit: pen, compass, flashlight, rope or twine, multi-tool, a knife, emergency blanket, woodcutter, fire starter and water bottle clip.
PROS
Affordable
Top-quality and durable material
Water-resistant
It works seamlessly
Sturdy and portable
CONS
It would be best if you bought it from authorized stores to avoid getting a fake one
Limited stock from the manufacturer
Advertisement
Article continues below
XcEST Bravo Fixed Blade Knife
Most Compact
The phrase 'big surprises come in compact packages' truly applies to this survival tools kit. Can you imagine that the knife, sheath and other survival supplies weigh under one pound? Well, you shouldn't be fooled by the lightweight and compact size. The knife's full tang handle plus the 3/16" thickness will endure anything you come across.
While the 440C blade steel lets you maintain the blade edge indefinitely, it's worth noting the survival gear comes with a Lansky sharpener. It doesn't matter whether you're in cold, wet, warm or slimy climatic conditions, you'll not lose the knife's grip, thanks to the included canvas Micarta handles.
Besides being a fine survival gear, XcEST Bravo Fixed Blade Knife comes with the most useful tools. It contains, Lansky sharpener, survival saw, compass, 2 ranger bands, fishing line, offset screwdriver, white LED light, P-38, leg ties and removable flap cover, fire starter, snare wire, sail needle, razor blade, 2 safety pins, snap link, magnifier and emergency whistle, bulk packed and certificate of authenticity.
PROS
Compact size
Easy to carry
Made in the United States
Sturdy blade
Comfy handle
It remains sharp for long periods
CONS
The blade is short for some activities
Cold Steel Warcraft – Fixed Blade Knife
Best Large Size
A large survival knife offers more benefits than the medium-and small-sized knives, and when it comes to the 'large knife,' Cold Steel Warcraft 12.75" Fixed Blade Knife is still unmatched.
Enthusiasts of the 'large knife' school of thought claim that large knives are versatile. While they're heavier than the standard survival knives, large knives give you the ability to eliminate some weight off of your loadout since they can undertake various tasks that typically need immense tools.
Customers' love about the Cold Steel Warcraft survival kit is that it has an amazing look and boasts a 7.5" black CPM 3-V high carbon steel blade. It also has a 4.75" 3D machined G-10 scales handle. Another thing that makes this survival gear a favorite amongst outdoor enthusiasts is that it incorporates a Secure-Ex sheath for secure yet easy access to your knife.
With its large size, you can easily process, chop firewood and carry out other tasks. Well, this means that there'll be no necessity to carry extra instruments, such as hatchets and folding saws.
PROS
Durable construction material
Sharp and sturdy blade
Well designed
It feels light for its weight
CONS
Advertisement
Article continues below
KA-BAR Original Fixed Blade Knife
The best investment for money
A great tactical fixed blade, KA-BAR's original fixed blade is both modish and substantial in both weight and design. Well, this survival tools kit isn't weighty to cause any discomfort. However, it's sufficiently heavy to prevent potential slips from your hands during use. tIn fact, very few users complain about the handle's grip.
Besides the survival knife itself, its stiff sheath assures total protection when not in use. Also, it allows the survival gear to endure the most extreme environments. KA-BAR survival tools kit will keep you confident and safe when going for outdoor activity.
It's worth noting that this survival gear is an iconic tool that earned the manufacturer its name more than seven decades ago. The knife boasts a sturdy 0.165" thick blade, a length of 7", a flat ground and it's designed from a 1095 Cro-Van steel.
The ergonomically-shaped and comfy handle offers you incredible control over the knife. On the other hand, the clip point design offers this survival gear additional puncturing and cutting power. In addition to coming with a stylish leather sheath, the knife prides itself to have a black blade finish.
PROS
Great handle
Great balance
Reliable and strong sheath
CONS
The carbon steel is prone to rust
KA-BAR Knives Becker 10.5" Campanion Knife
Best Multipurpose
Well, this KA-BAR Knife Becker 10.5" is the perfect companion to any outdoor event in the wilderness, and hence the name 'Campanion.' Also, this Becker survival gear comes with a fixed blade. Previous customers say that the blade is probably the best-fixed blade they have seen in a camping knife. What else would you look for in a survival knife kit when going deep into the wild?
While it is not the best in accomplishing some things, this survival tools kit certainly excels in other areas, thanks to its versatility. So, whether you need to use it to mark your way, shred kindling or other activities while surviving out in the cold or camping, it would be wise to consider buying the KA-BAR Becker 10.5" Campanion Knife.
The incorporated Black Grivory handle will offer you the ideal grip for any cutting task that comes your way.
PROS
Heavy-duty material
Made in the United States
It comes with a black nylon sheath
Ideal for camping
Versatile
CONS
The knife tightly locks into the sheath
Unpleasant at first sight
Knife Features
A survival knife kit needs to be ready for any situation in the wilderness. In most cases, you'll have to deal with hunger, thirst, heat, cold, lack of shelter or even insufficient safety. When faced with such extreme scenarios, you'll need to have a tool that helps you overcome them. Here is where a survival knife kit comes in handy.
When it comes to searching for a survival tools kit, you can check it to see whether it incorporates the necessary items. Some of the items it needs to have include, a weather-resistant poncho, tarp, tube tent, fire striker and fire starter, large plastic trash bag, waterproof matches, catalytic heater, sleeping bag and canteen with water. Other features that the survival knife kit must have include:
Tang
In simple terms, a knife's tang is the unsharpened and unexposed segment of the blade, which extends down to the handle. When a knife incorporates a full tang, it shows that the blade extends all the way to the end of the handle.
On the other hand, we have got a partial tang. In this type of knife, the blade runs partially down the handle. Thus, when buying a survival knife, it's essential to buy the one with full tang as it's much stronger and durable.
Blade Metal
The material used in designing the survival knife kit blade plays a huge role in its longevity and reliability. Usually, most survival tools kit contains knives designed from stainless steel or high-carbon.
Besides lasting for long periods, stainless steel material prevents the blade from rusts. Carbon blades, on the other hand, remain sharp for long periods but are prone to rust.
Best Survival Knives For Ultimate Cut
The Handle
Another feature worth considering when buying a knife survival gear is the handle incorporated in the knife. Buying a handle with a loose grip makes it pretty difficult to use the knife. In most cases, the handle of a survival knife contains polymer or rubber material. In other cases, knives may consist of hollow handles, which you can use to store items.
Advertisement
Article continues below
What a Survival Kit Should Contain
Are you aware that the average person can survive for over 3 weeks without eating, but only 3 days without taking water and 3 hours outside the normal body temperature? Well, knowing this and identifying what to include in a survival knife kit can literally make a difference between life and death in a few vital hours or minutes.
The good news is that you can significantly enhance your survival chances in the wild by ensuring your survival knife kit has got the necessary items. In this section, we'll outline the must-have items in your survival tools kit.
Compass
One of the essential survival and navigation gear that your survival knife kit should contain is a compass. A compass will help you find your way back to safety when lost in the wild. Whether you want to head north, south, east or west, a compass comes in handy in such situations.
Remember, the quality of the compass you get comes down to the quality of the survival knife kit you buy. So, you'll come across some survival knives that incorporates a compass at the bottom of the handle. While this is a great feature to have in a knife, it would be beneficial to have a separate compass, primarily used for navigation purposes.
Fire Starter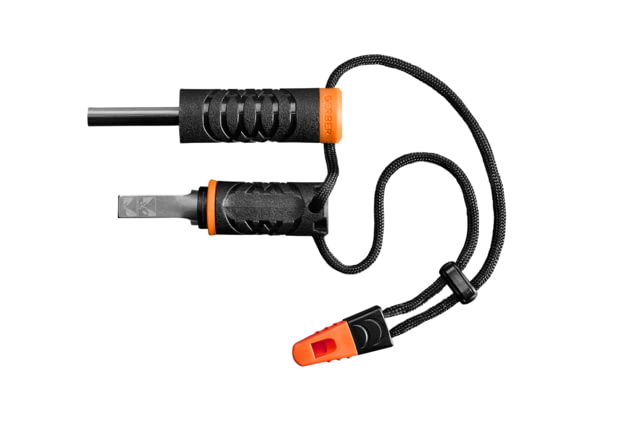 Gerber Fire Starter MultiLingual, 31003151
If you're to prepare a meal, frighten the wild animals and survive a cold, starting a fire in the wild is one of the essential things you need to accomplish easily. You perhaps already know that you need to be armed with the ideal fire-starting skills and have a way of starting the fire.
Well, here is where having a reliable fire starter becomes a vital survival item to possess at all times. As a matter of fact, it would be wise to choose a survival knife kit that has at least three ways of starting a fire.
So, when you go shopping for survival tools kit, you'll find out that most of them will incorporate a fire start. The kit may either have a ferrocerium fire starter rod or some pieces of flint. The Ferro rod makes it easy to produce constant high-temperature sparks. Thus, ensure the survival knife kit you wish to buy comes with a fire starter.
Attention Gear
In a survival scenario, having devices that can draw other individuals' attention can make a difference between life and death. Well, this is why a survival knife kit incorporates small flashlights, whistles or even mirrors.
Basically, you can use these devices to catch the attention of other people. Attention gear comes in handy when you cannot call out people, especially due to fatigue.
Fishing Line / Hooks
Most survival tools kit incorporates varying amounts of fishing hook and lines. While some come with a lot of them, others come with only a handful. Whatever the case, having a fishing line or hook at your disposal is useful.
With these tools, you'll be able to catch something to consume and sustain yourself for a prolonged period. Luckily, you'll mostly find a survival knife that includes weights to use on the fishing line for extra slack.
Survival Knife

Gerber Bear Grylls Survival Fixed Blade Knife 31-000751
The high chances are that you'll need to perform plenty of cutting chores in a severe survival setting, and a reliable, sturdy survival knife comes in handy. Choose a survival gear that includes a multipurpose and high-quality survival knife. The knife must have the ability to cut strings, sharpen sticks, skin your hunt and perform other chores.
The perfect survival knife needs to be razor-sharp and strong to cut through the toughest materials easily.
A Bow Saw
As simple as it is, a bow saw makes it easy to survive in a cold situation. However, it's advisable to pick a lightweight, durable and metal-framed saw. In addition to cutting through logs, a bow saw makes it easy to cut firewood.
Additionally, it can help cut down big branches and make a shelter that a survival knife cannot easily accomplish alone. Merely put, it helps you perform heavy tasks that you cannot easily do with the survival knife.
Emergency Survival Whistle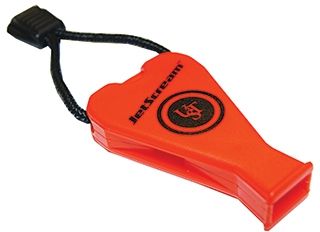 UST JetScream Whistle, Orange 20-300-01
Having a whistle hanged around your neck is highly recommended in case you get lost in the wild. Your voice may not be sufficiently loud to reach far, and here is where blowing a whistle alerts the nearby individuals about your distress. A plastic whistle is highly recommended since it's lightweight and won't rust.
Signal Mirror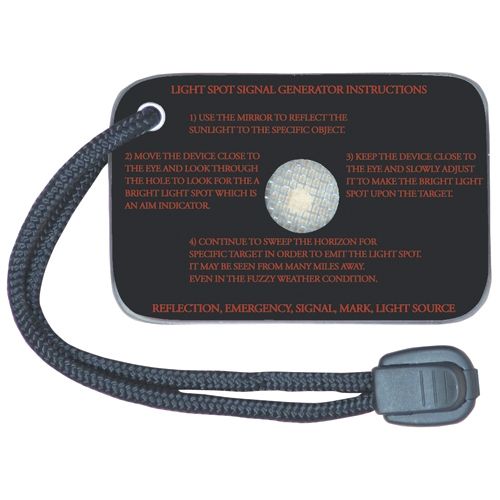 Fox Outdoor Signal Mirror, ., 38-36
There're several heart-breaking stories where search helicopters have failed to rescue people due to weak signal. The good thing about a signal mirror is that it reflects light at long distances, making you easily recognizable should you get lost.
Flashlight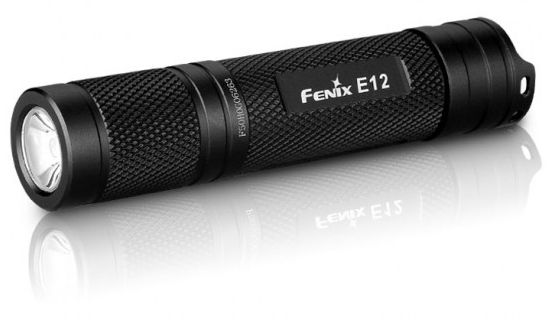 Fenix E12 Compact LED Flashlight, 130 Lumens, Black, Uses 1 x AA Battery Included FENIX-E12-XML2
Few components can confuse even the most experienced outdoor enthusiasts than being masked in total darkness. A reliable flashlight is thus a must-have if you plan to head into unfamiliar areas. Nowadays, most flashlights are compact, lightweight and effective, making it easy to carry them along.
Water Filtration
At the start of this section, I said that it's tricky for a person to survive more than 3 days without taking water. Notably, while out in the wild, you need to take at least one gallon of water daily. In fact, a few drops of water can make a huge difference between life and death.
Although you want to be at your peak on your day out, carrying too much water is cumbersome. Well, you'll perhaps find water in the wilderness, but it may make you severely sick. Here is where having a survival water filter comes in handy as it helps you find out whether water is ideal for human consumption.
First Aid Kit
When heading out to the wild, it's essential to have a first aid kit at all times. Basically, a first aid kit is an essential item that needs to be easily accessible at all times.

Advertisement
Article continues below
Buying Guide for Survival Knife Kit
A survival knife kit is much different than a typical pocket knife kit. Usually, manufacturers design them to endure extreme circumstances. Regardless, most incorporate features that make them adaptable to multipurpose purposes, like lighting fires, cutting branches and other activities. All in all, here are the most important features to consider when buying a survival knife kit.
Size and Weight
While size is not a huge concern for some users due to the circumstances they face, a survival knife with a blade measuring below 4.5" will not be of significant help, especially if you'll harvest wood and cut branches. On the other hand, the knife needs to be lightweight for easy portability yet have ideal weighty to make it easy to cut heavy branches.
Multi-Tool Features
When searching for a survival knife, it's essential to pick the one that incorporates versatile features. So, choose a knife that you can use to perform several camping tasks, such as cutting woods for lighting fire, cutting ropes, skinning your hunt or even self-defense.
Blade
While thickness is vital in keeping the knife strong and preventing potential bends, you want it to be thin to carry out other tasks, like skinning animals easily. So, look for a knife with a thickness of 0.17" to 0.25".
When it comes to the material used in designing the blade, consider opting for a knife that incorporates a durable steel material. Most knives comprise of high-grade stainless steel, like high carbon steel, Cro-Van steel and titanium facing.
Handle
A survival knife needs to have a handle that offers a firm and comfy grip under any weather condition. So, look for ergonomic, durable and slip-resistant handles designed from Kraton, Micarta or dense rubber materials.
Alternative Gear Kits
Lansky TASK Survival Kit
Lansky's TASK Survival Kit serves as the ideal emergency bag. The tools and items included in this survival kit can easily handle several situations, such as escaping from life-threatening situations and standard survival during several apocalypse situations and natural disasters.
The kit comes in a 20L tactical backpack, making it easy to empty and pack items within a short period. Besides, the backpack features a large main compartment, padded back panel, adjustable hip, gear pockets, compression straps, water bottle holder and sternum straps.
Kit Features:
Easy-grip knife
Multipurpose battle axe
20 functional multi-tools
Tactical flashlight
Blademedic sharpener
LifeStraw Water Purification
Puck-dual grift sharpener
Paracord bracelet
Compass
Advertisement
Article continues below
PROS
Compact
It incorporates plenty of items
Rustproof and heavy-duty construction
CONS
Quite heavy if walking for long distances
Tops Knives Leather Bushcraft Sheath
First, this bushcraft leather sheath boasts a high-quality and thick American steer hide. Secondly, it comes as a single piece with a fold-over design and double-stitched welt. Another feature is that it comes with a belt loop and D-ring plus two straps, making it easy to hang.
The sheath also incorporates an inbuilt loop TOPS 3 barrel emergency fire starter. Keep in mind that the left-handed version is a custom order, and you have to wait for a couple of weeks before it's ready for delivery.
All in all, this sheath perfectly fits various TOPS knives, such as Dragonfly 4.5, Mohawk Hunter, HOG 4.5, Fieldcraft by B.O.B., Spirit Hunter and Shango XL.
Conclusion
A survival knife kit comes in handy if you're staggering in the wild after injuring yourself and there's no ready shelter in place, the storm is blowing in your face and the night is minutes away. In such a situation, you'll have to build a shelter, look for firewood, start a fire, cut bandages and open the canned food you carried along.
When it comes to buying survival gear, consider buying any survival tools kit reviewed above. By now, you know what to expect from a survival knife kit and which one suits your demands. Remember to always arm yourself with survival tools before heading into the wilderness regardless of the time you'll spend there.